Understanding molecules, their shape, structure, how they are made and react, is the linchpin of all the sciences. Molecules are what we are made of, what we eat and drink and what the world around us is composed of.
We offer both a BSc Chemistry degree and our BSc Natural Sciences degree programme, which allows you to study a biology pathway and to have your specialism included in the name of your degree, BSc (Honours) Natural Sciences (Chemistry).
How we teach Chemistry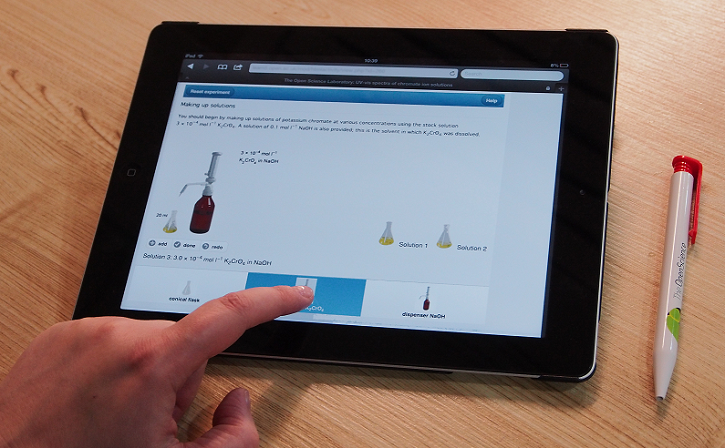 Our long established, quality distance-learning methods use innovative technologies to provide a modern, blended learning experience. We're designing our new Science modules with on-screen delivery in mind, taking advantage of year-on-year developments in new technologies to make students studies with us even more engaging and flexible - on computer, mobile and tablet devices.
Students will be immersed in interactive activities, using a mix of high quality text, graphics, audios and videos to support their learning.
Meet some of our Academics
Dr James Bruce is an Organic Chemist who works with a range of companies providing solutions that that will improve lives and keep people safe.
Dr Geraint "Taff" Morgan has worked on a wide range of projects including the instrumentation on Rosetta - the comet chasing spacecraft. As an analytical chemist, Taff works with colleagues from many disciplines on problems from detecting cancer to insect infestation.
Teaching underpinned by research
The Open University doesn't just teach: it's a global leader in research and innovation too, with OU research and development ranking in the top third of UK universities. The Faculty of Science, Technology, Engineering and Mathematics has a long and distinguished record of conducting high quality, internationally leading research. These researchers contribute to our state of the art curriculum material ensuring our teaching is up to date, informed by scientific research.
You can get a flavour of our published research in the Life, Health and Chemical Sciences through our Open Research Online (ORO) website
Explore some of our Chemistry resources
Try Chemistry: essential concepts
Have a look at our free OpenLearn unit 'The molecular world' (20 hours study)
What chemical compounds might be present in drinking water?
Have a look at our free OpenLearn unit What chemical compounds might be present in drinking water?' (6 hours study)
Pain and Aspirin
Have a look at our free OpenLearn unit 'Pain and Aspirin' (9 hours study)
OU Alchemy
Alchemy is for any one with an interest in chemistry, whether they are currently studying or thinking about it.
They offer newsletters full of chemistry related wonders, past paper solutions, exciting visits (for example Joddrell Bank and a brewery) and updates on OU modules, careers advice and revision weekends.