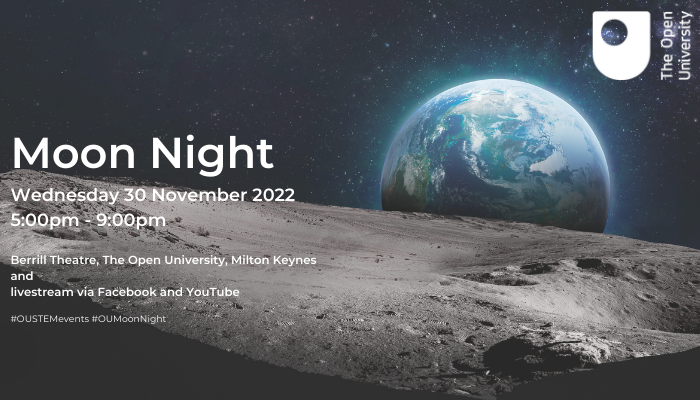 Wednesday 30 November, 5:00pm - 9:00pm
Re-emerging as a live, face-to-face event, Moon Night will give you an insight into the university's world-leading research in planetary and space sciences.  We have two speakers: Libby Jackson, Head of Space Exploration at the UK Space Agency and Steve Crabtree, a BBC Executive Producer, who will show and tell of the making of "The Far Side of the Moon" episode within the Science's Greatest Mysteries series. The OU's lunar research informs the content of this episode. Following the public lecture, there will be a number of hands-on activities:
Explore the history of Space Exploration through posters, audio and video footage.
Learn how volcanic ash can be used to grow plants on the Moon
Handle Moon rocks and meteorites and explore the OU's Virtual Microscope collection of Apollo Moon rocks.
Learn how 3D printing could be used to build habitats on the Moon.
Walk on the Moon via an immersive virtual reality experience.
Imagine living on the Moon – draw, paint, and write on the Moon Wall
Guided tours of our Space Laboratories 
In person tickets are limited, and there is an option to join the talks online here.