The materials research at The Open University feeds into our curriculum at both undergraduate and postgraduate level. Further information on the qualifications that we are offer are outlined via the links below: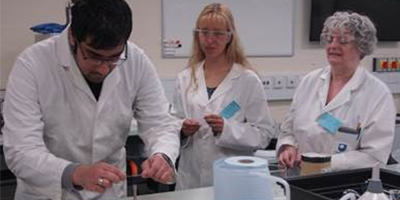 Undergraduate programme
We also offer a Foundation degree in Engineering and a top-up Bachelor of Engineering (Hons) if you already have a Diploma of Higher Education in Engineering.
As well as studying for a qualification it is also possible to study modules on an individual basis. Modules that might be of particular interest include: Engineering Small Worlds: Micro and Nano Technologies (T356) (30 credits) and at postgraduate level Manufacture, Materials, Design (T805).
Taught Postgraduate programme
Research Degrees
We offer a range of research degrees, in particular opportunities to study for a PhD or MPhil, either full-time at our campus in Milton Keynes or on a part-time basis for students working in industry.
Please visit the main vacancy site for a list of our current full-time opportunities. For possible part-time study please contact STEM-EI-Research@open.ac.uk (Materials Engineering) or science-phd-enquiries@open.ac.uk (Chemistry) in the first instance. Further general information on the research degrees that we offer as well as information on how to apply can be found in our Research degrees prospectus, together with specific information on Materials Engineering and Materials Chemistry.
Free learning
You may also be interested the following extracts from our modules available via OpenLearn and MOOCS available via FutureLearn:
FutureLearn
OpenLearn