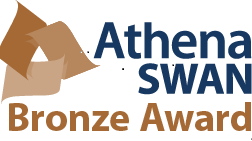 We are delighted to announce that we have won further Bronze Athena SWAN awards in recognition of our ongoing commitment to gender equality. These highly prized awards recognise our commitment to promoting gender equality for all staff and students across the newly launched Faculty of Science, Technology, Engineering and Mathematics.
Chair of the OU's STEM Gender Equality Group, Dr Clem Herman, said she was thrilled to have led on such an incredible journey. "Athena SWAN applications are very onerous and demand huge amounts of commitment from so many people across the schools submitting, as well as the wider University. This is great news, not only for the STEM schools, but for the entire University – indeed one of our commitments is now to extend the scheme and good practice in gender equality to non-STEM areas of the University" she noted.
The awards include the renewal of The Open University's Institutional Bronze status and two Departmental awards for the School of Computing and Communications and the School of Engineering and Innovation. The School of Life, Health and Chemical Sciences is waiting to hear the result of their Bronze application. The School of Physical Sciences (SPS) received an Athena SWAN Silver award earlier this year.  SPS is the first OU school to be awarded Silver status recognising its activities towards reducing inequalities in research, teaching and day-to-day processes. The School of Mathematics and Statistics already holds Bronze Athena SWAN status. 
The Equality Challenge Unit's Athena SWAN Charter aims to advance the representation of women in Science, Technology, Engineering, Medicine and Mathematics (STEMM).
UPDATE: We are delighted to announce that in addition to those announced previously, the School of Life, Health & Chemical Sciences has also won an Athena SWAN bronze award.